Georgina Terry, Consultant and Coach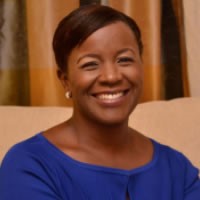 Georgina Terry FCCA PMP, the Passions to Profitability Expert is a qualified accountant, qualified coach, Project Management Professional, Change Management consultant, local and international inspirational speaker, TEDx Speaker https://www.youtube.com/watch?v=ZlCxyXPWACM ) facilitator, trainer, accredited InfoDev (Division of the World Bank) facilitator, Trinidad Ambassador for the Global Movement – Women's Entrepreneurship Day and author of the best-selling book 'The Amazing Race to Entrepreneurial Freedom'.
Georgina is also the Managing Director of Business & People Development Associates Limited (BPD).
Georgina is originally from London, England and prior to moving to Trinidad in 2001, she worked for The Economist and PricewaterhouseCoopers. She has over 25 years of outstanding results delivery and experience. She uses her skills and knowledge globally to assist people to achieve previously unrealised business/career and personal goals.
Through her company BPD, Georgina works across a wide spectrum, from aspiring entrepreneurs to multi-national organisations to support clients in achieving their desired business and personal goals.
Georgina's success with local, regional, international and multi-cultural clients (e.g. Trinidad & Tobago, Jamaica, UK and West Africa) reveals her exemplary ability to adapt quickly to diverse cultural norms as she works with career professionals, entrepreneurs (aspiring and established), departments and whole organisations to increase and align their passion, productivity, processes and profits to achieve their desired vision. Georgina Terry's purpose in this life is to assist people in living their lives and developing their businesses/careers by desire and design, rather than by default.